POWDER PRODUCTION OPTIONS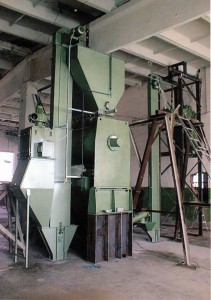 The spray mixing process, used for production of powder-type detergents and cleaning agents, has established itself as the only future-oriented alternative to spray drying.
This basic production process is efficient and environmentally-friendly. Spray mixer units are very flexible in use and operation. They allow for a quick, easy change in your product line. Low investment costs and energy consumption are important economic advantages of the spray mixing process.
Spray mixer units have nearly universal application. They can be used for the production of universal and fine washing powders, used either by machine or by hand. You can also produce dish washing powders and industrial cleaners in powder form.
STANDARD OPTIONS
Powder Option A
SPRAY-MIXING PLANTNominal production rate: 3600 l/h equals
1800 kg/h at spec. weight of 0.5
Powder Option B
SPRAY-MIXING PLANTNominal production rate: 3600 l/h equals
1800 kg/h at spec. weight of 0.5
ADDITIONAL EQUIPMENT or STAND-ALONE POWDER PACKAGING OPTIONS:
PFB 2000
SACHET FILLING LINE FOR PACKAGING OF POWDER – DETERGENTPackaging speed/capacity:
10 – 18 packages/min at max. dosage
10 – 22 packages/min at medium dosagevolume-capacity (per unit):
2 – 5 litre = 1,4 – 3,5 kg
at spez. weight of 0,7
PKB 2500
CARTON FILLING MACHINE WITH VOLUMETRIC DOSER FOR POWDER – DETERGENTautomatic pick-up of flat cartons, glueing of cartonsvolumetric filling of cartons (and flap after filling)adjustable vibrating of cartons during fillingtransport of filled cartons out of the machine by conveyor